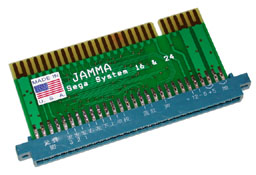 Another JAMMA adapter here-- the Sega System 16 and 24 adapter.

This adapter is used for games like Alex Kidd, Alien Syndrome, ESWAT, Golden Axe, Shinobi, Quartet, Fantasy Zone, Wonder Boy III, Aurail, Major LEague, Tetris (Sega), Cotton, Bonanza Bros, Scramble Spirits, Gain Ground, etc.

The JAMMA connector edge is keyed to mate to a standard JAMMA harness and the edges are beveled and gold plated for long life and highest quality connections.

The board is priced at $20 each, fully assembled and tested.